Abby O'Reilly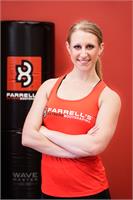 I started Farrell's in April of 2014. I began instructing the session following my 10-week challenge. I am a level 2 certified instructor for both kickboxing and strength training, but am working on my level 3 certification.
I have loved hockey for as long as I remember. I began playing in kindergarten and am still involved as a coach for the U15A girls' hockey team in the same association I grew up playing for. The end of my hockey career after high school brought me to Farrell's in my search for exciting, evolving, and high tempo physical activity. I was 19 when I started the program. I am now 22 and my enthusiasm for the program continues to grow every day. You will find me at Shoreview or Stillwater FXB at least once a day, possibly more, and possibly both. I could not ask for a better environment to complete my own workouts, but too also help those around me accomplish things they never knew they were capable of before Farrell's.
Abby O'Reilly is currently not instructing any classes.