Dan Foote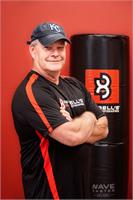 Member Since: 2011
Instructor Since: 2013
I am a level-2 kickboxing and band instructor.
I initially started at Farrell's because of encouragement from my daughter Anne and a personal desire to never having to say, "no I can't" to my grand kids. Now 5-years latter I have discovered that being and instructor is one of the most personally rewarding things I have ever done – For me, it's all about making sure that every member I'm in front when on the mic, enjoys themselves and is motivated to achieve their fitness goal.
I live in Vadnais Heights with me wife Sue and we are celebrating 37th wonderful years of marriage this year. We have two incredible daughters, both married to wonderful husbands whom have rewarded us, so far, with three unbelievable grandchildren.
My favorite KB combo is jab-cross-back-fists and bands are curls and donkey-kicks. On cheat day, the first thing I reach for is pizza and on other days I just pretend that my go-to blueberries are pizza.
I used to say that my long-term fitness goal was to be the oldest Farrell's instructor, but I think I already have achieved that. So, today my personal fitness goal would be to achieve a level of proper-form so that when Cindi and Kerrie watch me they no longer have to question why they ever allowed me to become an instructor.
Dan Foote instructs the following: